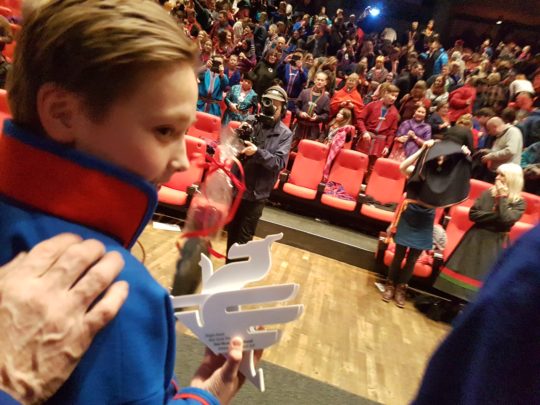 One of the film's amazing extras, Jon Nejla Kappfjell, holding the statue of the Dragon Award after the screening of Sami Blood in Tråante
Our co-production Sami Blood reaches home after his odyssey on the world's festivals. At the Gothenburg Film Festival, all four screenings were sold out, and the film won the main prize Dragon Award – Best Nordic Film, the world's largest film award with a cash prize of one million crowns!
After Gothenburg Sami Blood premiered on Sami land in Trondheim at the great 100th anniversary of the first Sami joint country meeting February 6, 1917. It was a very special screening with very nice response from the almost exclusively Sami audience. We say again congratulations to Director Amanda Kernell and the main producer Lars G Lindström Nordisk Film!