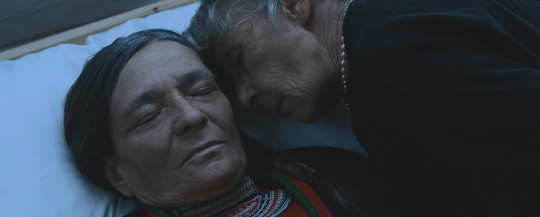 Yesterday Sundance announced the short film lineup for 2015. Over 8000 films applied for the festival and The film Stoerre vaerie (Northern Great Mountain) by director Amanda Kernell is one out of 60 films accepted for the competition. It's the first time a Sámi film will be shown at Sundance.
Stoerre vaerie (Northern Great Mountain) is about Elle 78 who does not like Sami people – though her first language was Sami and she grew up in the mountains in Lapland. Now she claims that she is completely Swedish and from the south. Under pressure from her son, she reluctantly returns north for her sister's funeral. As they are about to leave, she understands that her son has planned for them stay with their relatives over night. Refusing to do so, Elle checks in at the local Grand hotel with all the tourists…
Amanda Kernell was born in 1986 in Umeå, in the far north of Sweden, with a Swedish mother and Sámi father. Since 2006, Amanda Kernell has directed several acclaimed shorts including, among others, Det kommer aldrig att gå över (This means forever) and in 2013 she finished her studies in Directing at the National Film School of Denmark. She is currently working on her first feature film Sameblod (Sámi blood) about a young sami girl in the 1930's who decides to become Swedish and cuts all bonds with her sami background.
The film Stoerre vaerie (Northern Great Mountain) is a pilot/prologue for Amanda's upcoming feature film and co-produced by Nordisk Film Sverige AB, Bautafilm AB and Sveriges Television with support from The International Sámi Film Centre, the Sami Parliament and Film i Västerbotten.
Read more in Sundance press release here
Contact: strong>
Director: Amanda Kernell + 4670 334 97 39
Producer Nordisk Film Sverige AB Lars G. Lindström +46 70 211 10 11
Producer Bautafilm AB: Oskar Östergren +4670 555 13 17